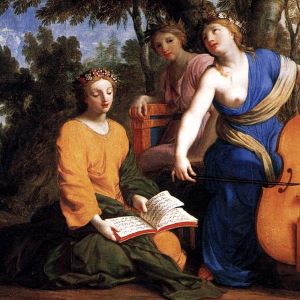 This Valentine's Day, I find myself feeling lonely.  My wife and kids are in the next room, playing and having breakfast, while I sit at my computer, wishing that somebody was here with me who hasn't been around for quite some time.
My muse has left me.  Again.
In the Mythic Scribes forums, I hear terrible things said about my muse.  She's fickle.  She's flaky.  She's prone to flights of fancy, to leading men on, to ditching at a moment's notice.  And all of these things are true.  She'll have me smiling one moment, and then leave me cursing and confused and feeling trapped as she runs out the door.  And I never know what to think of the fun we had together.  Was it real?  Or should I forget about it?
My muse leads me to passionate moments of writing that don't always make sense the next day.  Discipline.  Discipline is the better mistress – that's what everyone says.  Steady.  Dependable.  Likeable.
But there's no adrenaline rush.  She isn't half as much fun.
I can't count on my muse.  I don't have any fun with discipline.  What am I to do?  I need a complete and fulfilling relationship with my writing.  I don't want flaky.  I don't want "dependable."
Even as I write this, my wife is laughing with the kids in the next room.  It sounds like my oldest son has called forth a snowman dragon from the blue Yahtzee! cup he stole from the closet last week.  And when I think about my relationship with them, all of this muse and discipline stuff sounds like nonsense.
I want excitement that echoes and keeps me going through the tough times.  Not steady.  Not fickle.  But lasting.
Give Yourself a Lot to Be Excited About
There isn't a lot to a writer's relationship with Mistress Muse.  The inspiration comes, gets you excited, and then leaves.  You write until the writing starts to feel terrible.
But I don't want my exciting writing moments to be spontaneous and random.  I want them to come through the work.  I want my favorite writing moments to be the ones that make the rest of my work shine, instead of the ones I have to cut and rewrite later on.
For me, I try to make sure there's a lot in my story that I am personally excited about.  Every character.  Every event.  Every page.  If I don't feel pumped about a character, then that character never gets a name and doesn't make it out of OneNote.  I hunt down that excitement through the creative process before I write so that it will carry me through the tough slog of the follow through.
I want to find the fun first so that I have something to embrace, and to remember, and to look forward to, on those hours when the fun has left, and I just have to work at it.
Celebrate Your Progress
Those who woo Mistress Muse would have me trying to pump myself up hoping the great writing moment will strike.  Those who woo Lady Discipline would have me keep a database of every word I've ever written.  It's the difference between an intrinsic and an extrinsic motivation, between enjoying the process and pushing to meet your goals.
In a lasting relationship, whenever good things happen, you don't need to track them.  You need to celebrate them, to make a happy memory out of the milestones, to give yourself something grounded and emotional that stays with you without having to boot up excel every day.
I mark a small desktop calendar with an X for every day that I write.  That's enough for me to see the progress, to feel that sense of accomplishment, and to know when to celebrate.  But I'd do better replacing the daily excel habit with a cheer and a brag and an exciting music moment.  I'd rather end my writing time on the fun.
Redefining Your Muse
It's Valentine's Day, and my wife is urging me to hurry and finish this article.  And I'm reminded in her voice that somewhere growing up I've heard a different definition for the muse.
My muse is my audience – embodied by that person in my mind that I'm speaking to with my written word.
By being a writer, I am an entertainer.  At heart, I feel like I have these fantastic ideas in my mind that I want to get out.
I just want to share the awesome.
There is nothing more inspiring for a writer than to have something which makes that mental muse laugh, cry, cheer or gasp.
When you have done the difficult by finding your voice and wooing that muse, then you can write for the "WOW!"  After all, making somebody else excited – that's what Valentine's Day and wooing and romance are all about.
For Further Thought
How do you woo your muse?  Share your strategies with us.
Has your muse ever left for a prolonged period?  If so, how did you woo her back?