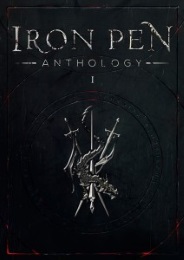 We're excited to announce the publication of the Iron Pen Anthology: Volume 1.
This is a collection of stories written by members of Mythic Scribes.  Each of these stories was written for one of our Iron Pen contests, which challenge writers to come up with fantasy stories based on four prompts.
This anthology features eight winning entries, which have been further expanded and polished, as well as a bonus story.
The collection includes:
Jack of Lies by Michael Poretski
A Winter to Remember by Anita Howitt
Perfection by Philip Overby
The Lamp by Robert MacAnthony
Madness by Tim Goff
Broken Promises by John Wong
Man in White by Brian W. Foster
Painted Truths by Martin Spernau
Seven Undying by Kassan Warrad
You can learn more about these stories and their authors at Cracked Anvil Press.
No themes. No shared worlds. Just stories that have earned the Iron Pen.
Ebook Giveaway
In celebration of the anthology's publication, we are giving away two digital copies.  The winners will be able to choose between Kindle and Nook formats.
For a chance to win, simply volunteer a prompt for a future Iron Pen contest.  Here are some sample prompts that have been used in the past:
The site of a costly battle
Something unexpected
A secret buried
A survivor
Leave your prompt in the comments below.  If we decide to use it, you will be one of the two winners.
Check out the Iron Pen Anthology: Volume 1 on Amazon and Barnes & Noble.