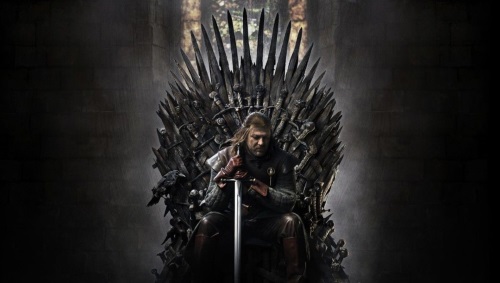 Since Mythic Scribes is going to be live tweeting during each episode of Game of Thrones, starting on April 17th at 9:00pm, I decided that I would read the book.  At first, it was slow going.  In fact, I was a little concerned that it wouldn't keep my interest.  After all, how can I tweet about something that bores me?   The prologue was great because it had the mysterious mythology that always attracts me.  However, after it I was starting to think that Game of Thrones was a soap opera in a fantasy setting.  In full disclosure, I sometimes watch DVRed Days of Our Lives episodes while I eat supper with my wife. So, I have some domain expertise on the subject.
With this concern in the back of my head, I struggled on.  However, as I went I struggled less and less.  Eventually, I looked forward to opportunities to read it. I remember the scene when I fell in love with it.  For those who have read the book, it's when Jon Snow gave his half-sister Arya Stark "Needle".  If you haven't read, but watch the series, that will probably make sense around the second episode.  My friend and I are assuming that they will end the first episode after Bran's climb.  That's where I would.
So, what brought me to love Game of Thrones?  I think, if you ask anyone, they will tell you it's the characters and how you start to genuinely care about them.  A friend of mine told me that before I started the book, and I now agree.  However, he couldn't answer why.  Here's my attempt.
In order for an author to allow their readers to care about their characters, they have to treat those characters with respect.  The author literally must make them his or her children.  And, that is what I believe George has done, and he picked favorites.   Coincidentally, for the most part, he picked my favorites-the outliers.
In any world, real or imagined, there is culture.  In most cases, there are many cultures.  These cultures are specific to time, location, family, and even biology.  Then, always there are born those who transcend the patterns they were born into.  The characters I usually fall in love with are these outliers.
Game of Thrones has no shortage of outliers.  We have Bran Stark who would prefer to climb around like a squirrel and feel birds in nests that nobody knows about because they are high up in the cracks and crevices of his castle.  There's Eddard "Ned" Stark, who is one of the few lords who does not desire the throne and holds family and honor above personal ambition.   He's also probably the first hero named Ned.  There's also the "tom boy" named Arya Stark, who prefers archery to needle point.
Jon Snow is the "bastard" son of Ned who is one of the few to join the Night's Watch without having committed a major crime.  He seems to share his father's looks and character more than any of his siblings.  While many of the lords have "bastards" to women other than their wives, because of Ned's honor, Jon was raised as one of the family.  Unfortunately, Ned's wife never accepted him so he grew up without a mother's love.   That being said, he has an amazingly nurturing personality.  Anyone who has read the book is keenly aware of the scene when they found the direwolf pups.
A few more outliers of note are Tyrion Lannister.  He is the born to a noble family, but hated due to the fact that he was a dwarf.  His physical limitations were countered by mental gifts and an amazing shrewdness.  Tyrion seems like a great friend, but a dangerous enemy.
Daenerys Targaryen would have married her brother if their parents were still on the thrown.  So, fortunately, they aren't.  Daenerys is sold, by her brother, to Khal Drogo to be his bride.  Khal is the leader of a tribe called the Dothraki.  Imagine the Vikings with a Native American stylist.  That's the Dothraki, but perhaps more civilized.  This marriage shows both Daenerys and Kahl to be outliers.  Daenerys, who has been repeatedly abused by her brother, can now gain strength and empowerment from the Dothraki people.  Kahl, even though he has a tough façade, turns out to be a sensitive, caring and respectful husband.  Trust me, after the wedding celebration, that's a huge surprise.
Whether you've read the books or not, I suggest watching the series.  If you watch it live, follow us on twitter (@MythicScribes).  It was done with a lot of collaboration with the author, and the source material seems to have been respected.   Looking at what I just wrote, I probably didn't make the best case for Game of Thrones not being a soap opera.  I suggest you watch it anyway.  Outliers have this nasty habit of not only transcending the patterns they were born in, but changing them.  This is what I look forward to seeing.