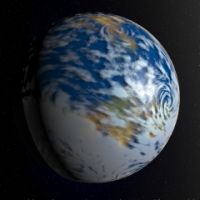 Every time I ask other fantasy writers a question about the worlds I create, one of them will inevitably respond, "What does this matter to your story?"
That's because many new writers, influenced by roleplaying games and the illustrations featured in our favorite fantasy novels, are prone to view worldbuilding as filling in the gaps on a map, cataloging the monsters, or finding new ways to justify fireballs. But these details alone do not create immersion.
Hobbyists build worlds. Authors build settings.
To make the jump from swamping readers in boring detail to immersing them in my writing, I have to use the world to help deliver the emotion of my story. My map is a world out of context. An entry from my bestiary may give characters a challenge, but not their foil. And whether the sorceress gains her medallion of fireballs from the ruins of a ransacked realm, the death wish of a dying demon, or from the Musty Mage Shopping Mall makes only as little or as much difference to my reader as it does to my story.
Even in a mundane novel set in a downtown deli, every character comes with a relationship to the setting. Whether the villain puts diseased sewing needles in a club sandwich or hurls lightning from his rod, the setting will fuel the plot. And whether people will put down a book dreaming of a mystical journey or terrified of going out to eat, the setting can make an impact on my readers. But the world won't do so in isolation.
I need to design my setting as a tool for developing my characters and my plot.
To do that, I need to create a world around the needs of my story, while still giving me the coherency and flexibility I need to keep my readers immersed. And I need to do so without wasting time.
Develop Your Characters
By creating a new world, we create new kinds of people and new journeys through the human experience. Not only will characters have a relationship to the world, but it's one that will have helped to shape their personalities and will continue to help develop their character arcs throughout the story.
If I want to tell a story about a lone warrior who rises up and saves his people, then his foil might be a world that suppresses or corrupts all other warriors. If I want an ambitious sorceress who seeks to rise quickly in the league of superwizards, then I may want a world which gives her an advantage the others do not have. If I want a story where the death of tribal warrior Balu-Balu at a tournament results in the destruction of his people, then I want to share with my readers a cursed world, where the nations whose champions lose in duels will lose the same way in war.
Rather than let the world and its intricacies intrude upon our stories with irrelevant detail, we can use our settings to empower the story. By thinking through our characters' literary needs as they develop through our stories, we can adapt our settings to accommodate them.
Fuel Your Plots
In many ways, a fantasy world is like an unfilled vacuum pulling at your plot. The larger and more complex your world, the more your plotlines will escalate to fill it.
If you have demons crawling out of a bottomless pit, someone will explore the bottom. If the gods are real, eventually someone will meet one. If there's twenty-one nations on the continent, readers will meet characters from all of them. If your magic system depends on the mystic web beneath the fabric of the universe, then eventually your villain will find a way to snip the threads to exploit the system.
As authors, we need to seed our settings with the tools we expect our characters to use. By including something in our world, we're committing our characters to exploring them. So take a moment to think through your worldbuilding decisions, and to consider what your characters will do with the elements you're including.
Keep it Coherent and Flexible
Fantasy worlds are complex beasts, filled with exotic nations, powerful magics, and bizarre creatures. Keeping track of your setting's details for many authors means reams of scrawling, disorganized notes, making it difficult to visualize the gaps or the story opportunities which arise from your setting. Worse, many authors commit large amounts of time early in the process to developing details that prove irrelevant to the story.
Worldbuilding lists sometimes cover dozens of topics, but I try to keep my process simple while still covering the bases. I've found that those lists can be captured in five broad elements of worldbuilding, each of which could be covered briefly or in depth depending on the needs of the story.
Magic – What are the magical elements which shape your setting?
Ecology – How does the natural landscape affect the societies in your story?
Government – Who has authority, and what are they doing with it?
Warfare – What do you need to know to develop the action in your story?
Culture – How do people behave in your world that might be different?
Once I have a basic framework for my story, I sketch out a spider graph for each of these topics, using short words and broad placeholders to brainstorm ideas, providing details only as needed. Considering each of these five elements, and expanding on them only as your story develops, will help you to create a world that's coherent, without forcing you to get bogged down in details you may not need.
Conclusion
Not only do settings set up your characters and provide resources for your plot, but settings develop, much like characters. They have a backstory, they have secrets, they have big reveals and subtle changes. The relationship between your characters and your setting can have an arc. With a bit of creative foresight, you can use these elements to show your readers something truly new.
Worldbuilding is one of fantasy's greatest strengths. Use it.
How do you use your settings to support a character's unique story?