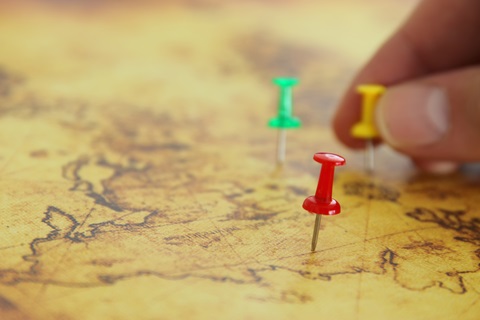 There's one thing about the Mythic Scribes writing forums that I appreciate: the thought provoking discussions on the craft of writing. These are my favorite because they not only get me thinking about my process, but I also pick up a few tricks other writers share as well. I learn new terms too, like waypoint writer. This term was used by another member to describe the way I write my stories. It was interesting to have someone else label this for me.
Since that discussion, I've come across other writers who also create this way. So what is a waypoint writer?
Somewhere Between Pantsing and Outlining
Before I was a waypoint writer, I was a pantser. The definition of pantser varies, but for the purpose of this piece, a pantser is a writer who begins a new story knowing very little about what they are writing and they write by the seat of their pants to the end. An outliner is a writer who creates an outline (regardless the amount of detail) before they start writing their story, knowing start, end, and finish.
As a pantser, I struggled with plot, conflict, and having a cohesive story. But I was always able to finish my work.
However, I got sick of my stories meandering and not escalating properly. So I decided to study outlining. I dedicated a year to playing with different outlining techniques I learned about on the internet or from other writers.
As an outliner, I struggled to finish a story. Sigh (a new problem). I plotted several stories and finished only one in that entire year. I discovered that outlining didn't jive with my creativity, so I knew that I needed something in between to help me achieve my writing goals.
I was looking for a process that would help me write a cohesive story, with escalating stakes and tension, while allowing me the creative freedom to use my gut all the way to the end.
Figuring It Out
I had to take it back to basics. Since I write romance, I wanted to write a story about a man and a woman who meet, face some challenges but fall in love, break up and get back together again, then live happily ever after. The secret sauce in a romance novel has to do with the emotions a reader wants to experience. I knew that I needed a process that would also allow me to add in what I was missing (tension, pacing) while also allowing me to explore more character development.
I'll be honest and say that this took me quite some time. Over the span of several titles, I finally honed down the waypoint process by using a combination of plot points, pantsing, and minor outlining.
The Process
Plot points. These are key. I've used several resources to learn about plot points from workbooks to youtube videos. I specifically studied plot points as they pertain to romance. For fantasy, the plot points will be called something different but they will still be the same points in the story set up to provoke an emotional response in the reader and move the plot ahead. I use a total of 31 plot points that I've combined from two different resources that I will list at the end of this article.
Characters. I must know who my heroes are, what they want in the story and what the romantic conflict is (for fantasy, just the story conflict).
Setting. This is pretty self-explanatory. I need to know where the story is taking place in order to set up the scenery when I pants write.
Tropes. My personal goal is to write more marketable stories, so I saved a list of romance tropes on my computer that I refer to from time to time. My stories typically have 1-2 tropes, which I use to drive the plot and create tension.
Gut trust. It's a scary thing, but growth isn't possible unless we trust ourselves to take chances. This is the part where I trust my intuition and intimate knowledge of the characters in order to craft the story. If I get to a dead end it means something is wrong with the plot, so I backtrack until the flow of the story feels right again. This involves a fair deal of pantsing and trust in my creativity.
Putting It All Together
Okay, so now I have all the tools I need in order to begin writing. Each plot point equals 1-2 chapters for me—so about 3k words per plot point. This is a general guideline for the beginning of the novel because things change once the story gets going.
I start with the first plot point, which is the introduction to the hero. I know that I need 3k words in order to complete this chapter, and that my destination is the next plot point, which is the introduction to the second hero (in romance there are two heroes). But here's the tricky part, I also need to bring the heroes together on page in the second chapter, preferably. I could extend it to the third chapter, but readers like to see them together as soon as is feasibly possible. And I aim to please.
So, I pants my opening chapter. Then I pants my second chapter, connecting it to the third plot point of 'meet cute' (heroes on page together). The whole gist of it is using the plot points as markers on a map, thus allowing the crafting of a story with proper pacing and structure, while also providing the freedom of exploration through pantsing. The best part is it gets me all the way to the end. Finishing is the most important aspect of writing a book. Waypoint writing helps me finish strong because now I have a foundation for closing a novel.
It was literally a life changer for me. I now have a process that helps me write a properly structured story with the tropes readers expect while still being fully unique.
Further Discussion
I hope this technique sparked some ideas about your writing process. Are you an outliner, a pantser, or somewhere in between?
What method do you use to help you write a structured story? Do you struggle in that regard?
What part of writing books do you find the most challenging?
Resources