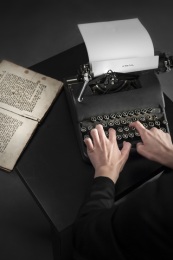 This is my third entry in my Cover to Cover series which follows a novel from inception to potential publication. It's interesting to note since I started doing this, my novel has changed quite significantly. Most notable is that I completed a first draft last month.
If you've ever completed a long first draft, then you know how time-consuming and rewarding it can be to type "The End." I was elated. It's done, right? Well, no. The dreaded edit comes next. However, sometimes just getting the first draft down can be quite a slog for many writers.
So how do you get from inkling of an idea to a completed first draft? I'll tell you how I did it and hopefully it will be of some help to others.
1. Write every day.
Ugh. Not this advice again! I'm only saying what has worked for me and this definitely did. As I was writing my first draft, I decided I couldn't start any more major projects. I'd just work on one novel until it was complete. That meant I got to a point when I said, "This needs to be finished," and I wrote every day until it was. Some days it felt like trying to wrangle headless harpies, but I soldiered on. Writing so much doesn't have to be a chore though. Write in short bursts if you need to, but try to find time to spend with your novel every single day. It will get you in the routine of thinking, "OK, what can I do on my novel today." If it's not drafting, try some world-building or pre-writing at least. Keeping your novel fresh in your mind helps a lot. I started to look forward to my writing sessions because I not only knew what I was going to write, (from my rough outline and pre-writing notes) but because I was enjoying my own story. Which brings me to some sub-points:
a. If you get bored with your story, think about what made you excited about it to begin with. Was it the concept, the characters, the twisty plot? Then put more awesome in your story. The sagging middle doesn't have to be the sagging middle.
b. If you need those "moments of rest" between the awesomeness, make them count. If there's a huge battle in one scene, have a character reveal she's been hiding a dragon in her bag while everyone's recovering. It gives what might otherwise be a lull some kind of hook to go into the next scene. This is what worked for me, mind you.
2. Make yourself accountable.
I started a group called Writers' Work: Clocking Your Time here on Mythic Scribes. It made me accountable for my writing by publicly stating "I'm going to write at least thirty minutes, an hour, whatever every day." If I didn't do what I said, there is public evidence that I didn't follow through. This may not be effective for every writer, but it helped me a lot. I inched toward the finish line on my first draft and it had a lot to do with support from the group. I highly recommend finding a group or at least a partner who can help hold you accountable if you're not the kind of person who sticks with your projects.
So what makes a good partner (or group)?
a. Someone who doesn't let you slip by the wayside. Meaning someone who makes sure to keep up with your progress as often as possible. Just a friendly, "How are things going?" can be a good boost.
b. Having a partner that gives you tough love now and again is helpful. If you have partners that are too pushy, it can become tiresome, but the right amount of nudges and the occasional "Did you work today? Why not?" can be good motivators.
3. Kill all other major projects indiscriminately. Cultivate smaller ones.
In my experience, I've found if I work on multiple major projects at once they all invariably suffer in some way and never get completed. In exchange, if you get distracted by new, shinier ideas (oh, I finally got an idea for my Undead Unicorn Devil Razor Ranger series!), try to limit them to smaller projects. I find that working on one major project like a novel and several smaller ones like short stories can not only be fun, but can actually increase your productivity on your main project. This works for me because there are always going to be times where you have a "This is crap" day. On those days, put your novel aside for a bit and work on a side project. You may find while doing so you get ideas for your main project and can jump right back into it.
Here are some additional "This is crap" day diversions:
a. Brainstorm ideas for future novels. Sometimes doing so can help cultivate your current project or motivate you to continue writing so you can get to your next novel.
b. Go walking with your notebook. Write things you see or think. Crumple up paper and pretend they're fireballs. Hurl them at people that pass you by. Come back home (or wherever you write) and, um, write.
c. Burn everything and start over. What? That's horrible advice! Well, yes and no. If something just isn't working and you're in the early stages, save it, put it aside, and write it from the beginning. I did that with my current novel and I'm loads happier with the newer version that emerged from the charred ashes (well, a draft put in a "Abysmal Failure" folder anyway) of my first version.
4. Have a slight idea where you're going.
Maybe because I'm a outliner, my suggestion may seem like it's only for others like me. But no! I'm all for every approach to writing that works for you. For me, knowing how my story is going to end is paramount. If you're a pantser, perhaps not knowing your ending is fine for you, but if you even have a note like "The dragon is killed" then at least you know something. I found most of my discarded projects became so because I wrote and wrote without even the slightest idea where any of it was going.
5. Bursts>Marathoning
I'm not against any one method, but I've found when I write in 30 minute or hour bursts, it helps me stay productive more than sitting for hours on end trying to come up with something. If you want or need to write six hours, try doing them in one hour bursts spaced throughout the day. For my novel, I only had one marathon session and the writing suffered because I was trying to cram as much writing time in as possible. I recommend trying something like the Pomodoro Technique. It involves writing (or doing anything) for 25 minutes at a time, taking various breaks throughout your sessions. Using this method helped keep me moving without getting writer's fatigue.
So that's all I have for this installment. Next time I'll talk about the dreaded edit and how to punch your way through it.
For now, do you have any surefire ways that propelled you to first draft completion? Please share your methods in the comments below.
For discussion of all things fantasy-related, check out Philip Overby's Fantasy Free-for-All.