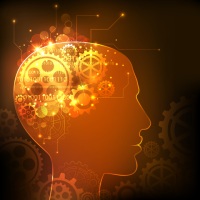 Writing a good novel demands a number of skills from an author.  You need to have a strong writing voice.  You have to be able to read people and get inside a person's head.  You should be able to let your characters provide commentary on life and the book's themes, whether consciously or not.  And you've got to be well read, well researched, and reflective so that you will be equipped to think things through.
But sometimes those skills, which require experience and thoughtfulness, can feel at odds with another skill that we need as writers: creativity.
There are thousands of ideas in a novel, buried in every paragraph on every page.  But we approach the process of creating those ideas as if it were mystical, and we have a tendency to discount their importance behind a veil of execution.  We treat creativity as wild and unpredictable, while execution is straightforward and deliberate.  But can we really separate the two when we're trying to figure out the best way to spice up and surprise a reader in the dialogue of chapter seventeen?  Executing a good novel demands a constant flow of good ideas.
Creativity is a Skill and a Habit
We've all heard that ideas are a dime a dozen, and it's true.  But they're like those card game booster packs.  The ideas you get can appear random, most of them you've seen before, very few of them work with what you're doing, and the ones that are truly great might not look that way until you've reconsidered how to include them.  But readers want a novel that surprises them, so as writers, we have to find some way to crack into this creative process.  Can we get control of what's in our idea booster packs?
Yes, it's possible.  Creativity isn't mystical or wild.  It's a skill and a habit we can develop like any other.  The ideas we think of are the connections we make from a starting point, the "triggers."  Dungeon?  Dragon.  Wizard?  Staff.  Our creativity is a measure of how numerous and different our connections are, the breadth and depth of those ideas.
The Obvious Choice vs. the Creative Choice
When we focus, the brain draws out connections that are close together.  But when we're relaxed, and the mind takes its creative downtime, it uses the extra energy to wander into connections that are farther apart.  Dungeon?  High School.  Wizard?  Stephen King.  The difference between the obvious choice and the creative choice represents creative depth.  The farther we reach to find useful ideas, the more our readers will be surprised and the stronger they should react.  Isn't that what writing's all about?
So we need to push, and dig, and question our ideas, fearing that we might not find anything.  We need to practice our creativity so that it comes on demand, when we need it, so that we can plow through that chapter 17 dialogue and still make it as compelling as the chapter driven by that random creative spark from the grocery store.
What's your emotional response to a dungeon?  Trapped.  Hostile.  Lonely.  For a wizard?  Capable.  Impressive.  Impossible.  What else triggers those responses?  High School.  Stephen King.  That's all the brain does when it's on its own.  That's all the "mystery" is.  Knowing that, what else can we do to play with our ideas?
Surprising the Reader
First, there's another piece at play.  The reader.  At any point in a book a reader might stop and think, "Based on what I've read so far, what happens next?"  On every page we're giving our readers triggers.  If we're not careful, we may end up giving our readers the same triggers from which we got our ideas.  Dungeon?  Wizard?  Their minds work, too.  "This book's about a wizard that's been sent to the dungeon.  I bet it'll be like a geek in High School, only with more cruelty."
But if we know where we're getting our ideas, and we're in control of the ideas our reader gets, then we can trick our readers.
Never mind trapped, hostile, and lonely.  What if we made our dungeon playful, rude and busy?  We might think of a daycare center, birthday party, April Fool's day, or a speed dating session.  Those ideas look different and weird, but take those concepts and bundle them back into the dungeon in our book.  We now have a slew of creative ideas for how inmates might treat a new prisoner, engaging him or her with useless activities, throwing a party, pulling pranks, and pushing the new person into meeting lots of new people.  The first day in a dungeon might feel playful.  Rude.  Busy.  Not the trapped, hostile and lonely place readers might expect.
And for the wizard?  Forget capable, impressive, and impossible.  Let's try shy, subtle, and endearing.  Now we might think of children, naivety, awkward first kisses, the kind of innocence you drastically want to keep out of a trapped and hostile dungeon.  But this is a main character and I want more ideas than that, so I'll do it again.  Let's take it to the other direction and try mean, subtle, and deceptive.  Now we might think of con men, lies, evil older siblings, and the crooked uncle nobody talks about – the kind of person you expect might belongs in prison.  Two ideas that look at odds, but we can make them work.  Roll them back into the wizard, and we have a character using magic to deceive the other inmates, and for a moment the reader, into believing he or she is someone quite different from the truth.
But is our wizard a con man pretending to be naive and innocent, or a naive and innocent person pretending to be a con man to fit in better in a dungeon?  That's a choice for the creative judgment, and there are no gimmicks to help making it.
Defying Expectations
From dungeon and wizard, the reader would expect none of this – unless they've read the back of the book blurb.  The opening concept of your book should be the best example of your creativity, but not its full extent.  An impossible wizard trapped in a hostile dungeon can make a great book if you can figure out how to still make it compelling on every page, even the dialogue buried in chapter 17.  Creativity doesn't stop with the concept.  A writer can't rely solely on the grocery store spark or the big ideas that percolate for years.  You need to develop a habit of thinking creatively in order to get through the muddle in the middle.
So for the would-be boring dialogue of chapter 17, what are you expecting, why are you expecting it, and how can you play with the triggers creating that expectation?
What are some examples of books and stories that have found creative ways to surprise you?